Welcome to Olive, California, an unincorporated community in Orange County, comprised of more than 50 single family residences1 nestled on a hill in the northern region of the city of Orange.

Founded circa 1812—the second oldest community in the county2—Olive was once known as the Gateway City of Orange County in the 1920s when automobiles traveled along Santa Ana Canyon Road to go to or from Riverside and the coastal cities, passing through Olive en route.3 But the fascinating history of this town goes back even farther than this, as indicated by a marker on the northwest corner of Orange-Olive Road and Lincoln Avenue: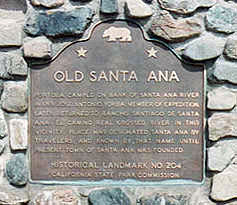 Photo by DLO
The "Old Santa Ana" marker, pictured above consists of a bronze plaque on a field stone monument.


Portola camped on bank of Santa Ana River in 1769. Jose Antonio Yorba, member of expedition, later returned to Rancho Santiago de Santa Ana. El Camino Real crossed river in this vicinity. Place was designated Santa Ana by travelers, and known by that name until present town of Santa Ana was founded.

(Historical Landmark No. 204, California State Park Commission)
The marker hints at much of Olive's early history. Don Gaspár de Portolá of Spain—former explorer and military leader, appointed governor of Baja California in 17674—first visited the Olive area in 1769, camping on the banks of the nearby Santa Ana River. José Antonio Yorba petitioned for, and received, a land grant5 of Rancho Santiago de Santa Ana that included the Olive area.6 The path of the El Camino Real (The Royal Highway) that links the 21 California Missions crossed this area, as Olive had been considered for the fourth mission site. The mission was eventually founded in 1771 as Mission San Gabriel Arcángel,7 five years before Mission San Juan Capistrano would be founded. The Olive region subsequently became known as "Old Santa Ana," a name that remained until the local town of Santa Ana was founded in 1869.8

Throughout its history, Olive has experienced a number of changes: From a pastoral community in the mid-1700s to the mid-1800s; to a bustling 1880s boomtown with a lucrative flour mill; to an orchard-filled community with five citrus packing houses spanning the early 1910s to the late 1960s; to a residential island in present times, struggling to retain its name and identity amidst growing pressures to incorporate into the City of Orange.

Though little physical evidence remains of Olive's early days, its history can still be found in the few remaining structures and homes in Olive Heights. For the latest photos of the Olive area, see Olive Through the Ages ... now and then.