Remembering Henry Lee Higginson
by John T. Morse, Jr.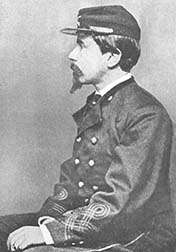 Less than a year after Henry Lee Higginson's death, his friend John T. Morse, Jr. published his account: "Memoir of Henry Lee Higginson." Featured here are excerpts from this piece with comments by Brian Pohanka.

In the passage below, Morse describes Higginson's speaking style after his 1890 Soldiers Field address that explains the significance of the donated land:
His habit was to speak in short, crisp, emphatic sentences, a dangerous method unless used in perfect good faith and with genuine earnestness behind it, for if employed merely rhetorically the affectation is sure to be detected. Major Higginson used it habitually and effectively in conversation as well as on formal occasions; it was natural to him. Therefore when he talked in earnest he talked forcibly. But he was not always willing to hand out his thoughts, and in such case he defensively threw out trifling, banal remarks which did not always produce a favorable impression. This, however, meant only that he was not at the moment inclined for serious talk.

...Henry Higginson was one of those fortunate men who understood his own character, and who was thus clearly aware that among his tendencies was an impetuosity which called for restraint; with intelligent firmness, therefore, he applied that restraint, with the result that there was constructive power where there might otherwise have been destructive violence. This sort of man the lads [at Harvard] respected, getting at his nature by the freemasonry of youth.

...The war cost Henry Higginson dear in friends lost.... For him the memory of these men never faded. To his latest years he frequently referred to them with a still fresh and ardent affection. One is tempted to use a slang phrase, though it profanes a sacred subject, and to say that friendship was a specialty with Henry Higginson. His friendships were many and were not only warm but singularly enduring.... He was constant in such a relationship; sometimes adding a new friend, never dropping an old one.... Dead or living they were all dear to Henry Higginson to the end; there were no mistakes in the list....
Morse concludes:
If he did not take rank among the conspicuous multi-millionaires of the country, it was because he did not make the amassing of money his chief purpose. To spend it well interested him more.


Special thanks to Brian Pohanka for supplying the following materials: Excerpts from the "Memoir of Henry Lee Higginson" by John T. Morse, Jr., Proceedings of the Massachusetts Historical Society, 1920, and the image of Higginson's war-time photo from Life and Letters of Henry Lee Higginson by Bliss Perry, Boston: The Atlantic Monthly Press, 1921.
Index to Higginson's Pages
Back | Home
Copyright © 2001 - 2009 1st Dragoon's Civil War Site. All rights reserved.

Spider Map Index