Robert E. Lee's letter to his daughter reveals:
A Father's Care for His Family, a Soldier's Concern about His Country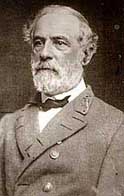 During the Civil War, Robert E. Lee was beloved by civilians and soldiers of the South for being a gentleman and a fearless leader. Though in public he was calm and undemonstrative, in private he revealed a warm, sentimental side to his family.

In 1909, Robert E. Lee's youngest son, Robert E. Lee, II, published his recollections of his father. In this volume he also included his father's letters from the period of 1861 through 1870, the latter being the year in which he died. A section of this book is devoted to letters he wrote during the Civil War to his wife Mary and his daughters Mary, Anne, Eleanor (Agnes), and Mildred. These letters reveal the tender side of the stalwart general, and express his affection for his family; his love of his home, Arlington House; and his concern for his country.

The letter below was written to his daughter Anne on March 2, 1862 while he was in Savannah, Georgia. A week and a few days later, he would depart for Richmond. There, at the capital of the Confederacy, Lee would be appointed chief of staff of the Confederate armies. In June he would assume the generalship of what he would name the Army of Northern Virginia. His beloved "Annie" would die later that year on October 20 at White Sulfur Springs, North Carolina, four months after her 23rd birthday.
Above: photo of General Lee by J.W. Davies, taken in 1863.
Left: Arlington House, built by George Washington Park Custis, was completed in 1817. His daughter, Mary Anna Randolph Custis, was married to Robert E. Lee in this house in 1831. For 30 years the Lees lived here, raising their seven children in this home shared with Mary's parents. In 1864 the estate was confiscated by the Federal government, and 200 acres were set aside for the establishment of a military cemetery, known as Arlington National Cemetery today. Arlington House became a part of the National Park Service in 1933.
Photo by CNO

Savannah, March 2, 1862

My Precious Annie: It has been a long time since I have written to you, but you have been constantly in my thoughts. I think of you all, separately and collectively, in the busy hours of the day and the silent hours of the night, and the recollection of each and every one whiles away the long night, in which my anxious thoughts drive away sleep. But I always feel that you and Agnes at those times are sound asleep, and that it is immaterial to either where the blockaders are or what their progress is in the river. I hope you are all well, and as happy as you can be in these perilous times to our country. They look dark at present, and it is plain we have not suffered enough, laboured enough, repented enough, to deserve success. But they will brighten after awhile, and I trust that a merciful God will arouse us to a sense of our danger, bless our honest efforts, and drive back our enemies to their homes. Our people have not been earnest enough, have thought too much of themselves and their ease, and instead of turning out to a man, have been content to nurse themselves and their dimes, and leave the protection of themselves and families to others. To satisfy their consciences, they have been clamorous in criticising what others have done, and endeavoured to prove that they ought to do nothing. This is not the way to accomplish our independence. I have been doing all I can with our small means and slow workmen to defend the cities and coast here. Against ordinary numbers we are pretty strong, but against the hosts our enemies seem able to bring everywhere there is no calculating. But if our men will stand to their work, we shall give them trouble and damage them yet. They have worked their way across the marshes, with their dredges, under cover of their gunboats, to the Savannah River, about Fort Pulaski. I presume they will endeavour to reduce the fort and thus open a way for their vessels up the river. But we have an interior line they must force before reaching the city. It is on this line we are working, slowly to my anxious mind, but as fast as I can drive them.... Good-bye, my dear child. May God bless you and our poor country.

Your devoted father,
R.E. Lee.


Robert E. Lee, The Recollections and Letters of General Robert E. Lee, by His Son, Captain Robert E. Lee (New York: Konecky & Konecky, 1992), pp. 65-66.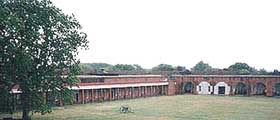 Fort Pulaski is located on Cockspur Island off the coast of Georgia near Savannah. Construction on the fort began in 1829 and lasted 18 years. As a young second lieutenant just out of West Point, Robert E. Lee worked as an engineer in the early stages of this project. With its moat, demilune (large, triangular piece of land outside the front of the fort), sophisticated drawbridge, and eight-foot-thick walls, the fort was believed to be indomitable. But on April 11, 1862, the fort was finally breached when projectiles from a Federal rifled cannon blasted through the southeastern wall after 30 hours of bombardment. Rather than having the fort blown up, it was surrendered to the Union.


Above: Photo of the interior of Fort Pulaski by CNO. To the left in this photo are rooms along the gorge wall that mainly served as officers quarters; and to the right is the Northwest Magazine that contained 40,000 pounds of gunpowder and suffered damage when the Federals fired upon the fort from April 10-11, 1862. Fort Pulaski National Monument was established in 1924.
Journal Index | Next Page
Back | Home
Copyright © 2001 - 2009 1st Dragoon's Civil War Site. All rights reserved.

Spider Map Index