The Shaw Memorial

by Augustus Saint-Gaudens
(1848-1907)
Photos by DLO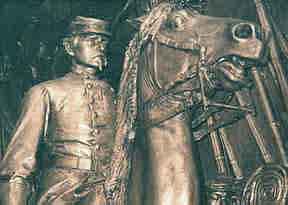 Augustus Saint-Gaudens' masterpiece depicts Colonel Robert Gould Shaw on horseback with his soldiers of the 54th regiment. Overhead an angel guides the men onward.

The original bronze memorial, measuring 11x14 feet, was a 14-year project from 1883-1897. The finished memorial stands in the Boston Commons in Massachusetts.

The plaster cast of the bronze relief, which is shown in these photos, is a copy of the original monument, and is currently housed in the National Gallery of Art in Washington, D.C.
Index to Shaw's Pages
Back | Home
Copyright © 2001 - 2009 1st Dragoon's Civil War Site. All rights reserved.

Spider Map Index