Hiram Duryea honors the 5th New York
in a Memorial Day tribute that recalls
August 30, 1862:
Day three of the Battle of Second Manassas (Bull Run)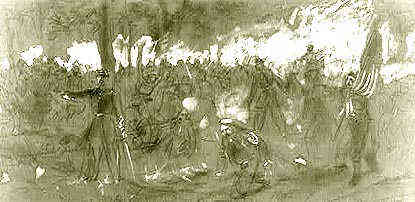 On August 28, 1862, General Robert E. Lee's Confederate Army of Northern Virginia clashed with Major General John Pope's Union Army of Virginia on the plains of Manassas, resulting in a three-day fight called the Battle of Second Manassas (Bull Run). On the first day, Union General John Gibbon's "Black Hats" (later to be known as the Iron Brigade) experienced their baptism of fire at Groveton, losing one third of their men, in what would end as a draw. Day two of the battle found General Philip Kearny's division pressing deeply into the lines of General Maxcy Gregg's South Carolinians then retreating, for lack of reinforcements. On the final day, a thin line of Federal troops, unable to withstand the blow by General James Longstreet's men, collapsed in bloody defeat. As a result of this battle—one of the greatest victories for the Confederacy—General Lee would cross the Potomac and advance his army north for the first time, thus opening the Maryland Campaign.

On the afternoon of August 30, the third day of the Second Battle of Manassas, General Longstreet launched a massive attack on General Pope's weakened left flank. Among the few Union troops to meet the onslaught of John Bell Hood's famed "Texas Brigade" (commanded by Jerome Robertson, and comprised of the 1st, 4th, and 5th Texas, 18th Georgia, and Hampton's Legion of South Carolina) were two Zouave regiments: Gouverneur Warren's 5th and 10th New York, respectively known as Duryée's and National Zouaves. The former was fully attired in Zouave regalia, the latter was clad in partial Zouave dress as they had not yet received their new uniforms.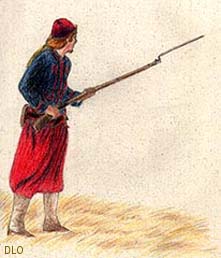 The Texas Brigade struck the skirmish line of the 10th New York with relentless force and swept around both flanks of the 5th New York, raking the Zouaves in a deadly crossfire. In less than 10 minutes, 85 lives of approximately 525 men of the 5th New York were lost, and subsequent to the battle, 34 additional lives of wounded men were lost—the greatest fatality of any Federal Infantry Regiment, excluding Heavy Artillery units.

Hiram Duryea, former commander of the 5th New York, would later comment on that fateful day in a Memorial Day tribute at Manassas in 1907, on land he had purchased for the erection of a monument to his beloved Zouaves. Showing reverence for his brave men, Brevet Brigadier General Duryea remarked that at Second Manassas: "Our comrades were dear to us; we were mutually bound by ties of love, wrought in the arduous toils, deprivations and hazards of war, and by our mutual baptism of fire and strife of battle. We know them as we can never know other men, for they were tried before us in all the great qualities which challenge the admiration and commendation of men and brings one nearer to God, in a self-devotion to righteous duty. We stand on holy ground! for this field was the altar of God. The Master said, 'Greater love hath no man than this, that a man lay down his life for his friends.' Here, our comrades laid down their lives for love of country, for human right, for the love and service of man. We sorrow at their loss, but we rejoice at their glorious death and achievements. God grant that the fruits of their sacrifice be preserved to our country, that fraternity may be its spirit; that moderation and justice may animate our people and guide those chosen to administer the laws and govern the welfare of the Nation. Here our comrades were immolated and we have come to set this land apart forever to their memory, conscious as we are that their heroism and sacrifice can never perish from the memory of man, and the history of our country; conscious as we are that their heroic deeds and glorious death wrought a more enduring monument to their fame and glory than any words or acts of ours, yet it is fitting, and our duty to be here, to have possessed ourselves of legal right to this land, and to proclaim its devotion to the honor of our glorious dead."

A monument to Duryée's Zouaves, dedicated at Manassas in 1906, stands between two streams, Young's Branch and Dogan Branch, near the 10th New York Infantry Monument and the monument to the 14th Brooklyn (84th New York—another colorfully uniformed regiment that donned red and blue uniforms styled after the attire of the French Chasseurs).

For more information about the 5th New York, please visit the Web site for Co. A, 5th New York Volunteer Infantry, "Duryée's Zouaves."

Image at the top of this page: "Warren's Brigade Overpowered by Longstreet's Advance," by Alfred R. Waud. The 5th New York (Duryée's Zouaves) are depicted in this sketch of the Battle of Second Manassas on August 30, 1862. Image courtesy of the Library of Congress.

Illustration of 5th New York infantryman by DLO.

Special thanks to Brian Pohanka for the quotation by Hiram Duryea, and for his significant contributions to—and assistance with—this article.
Copyright © 2001 - 2009 1st Dragoon's Civil War Site. All rights reserved.

Spider Map Index