The Poets' Tree

Richard E. Lee Remembered

Life Stories of Civil War Heroes

Voices from the Fields

Olive Through the Ages

Gordon T. McClelland Art and Labels

The Slackjaw Bros.

Daughters of Eve

Citrus Label Society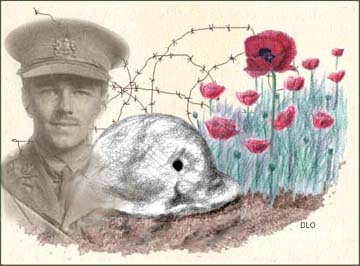 Voices from the Fields: Poetry and Sketches of the Great War pays tribute to soldiers and poets of the Great War—World War One—the war that, in the innocent thinking of that era, was believed by many would end all wars.

The Great War would forever change not only the lives of those affected by that war, but the lives of those living today, nearly a century after the first shots were fired in August 1914. By the end of the war in November 1918, the romanticism expressed by the phrase "Dulce et decorum est pro patria mori" ("It is sweet and fitting to die for one's country") would be replaced by a cynicism that would remain in our collective mind to this day.

The poetry featured at this site reflects the thoughts and feelings of soldiers and civilians of the Great War they experienced. A modern study of the battlefields and soldiers of that era also is presented as sketches by writer and historian Brian Pohanka.

It is my hope that this site provides insight into the life and times of the Great War era. Perhaps through the images and words presented here, a new consciousness will arise to bring about an understanding of not only the peoples of that age, but of ourselves and the era in which we live. May we be awake in our waking life, not asleep as the dead, as poet-soldier Wilfred Owen observed in his poem "Asleep":
Whether his deeper sleep lie shaded by the shaking
Of great wings, and the thoughts that hung
the stars,
High-pillowed on calm pillows of God's making,
Above these clouds, these rains, these sleets of lead,
And these winds' scimitars,
—Or whether yet his thin and sodden head
Confuse more and more with the low mould,
His hair being one with the grey grass
Of finished fields, and wire-scrags rusty-old,
Who knows? Who hopes? Who troubles? Let it pass!
He sleeps. He sleeps less tremulous, less cold,
Than we who wake, and waking say Alas!
- Wilfred Owen
This site is located at
dragoon1st.tripod.com/ww1/index.html