The Poets' Tree

Richard E. Lee Remembered

Life Stories of Civil War Heroes

Voices from the Fields

Olive Through the Ages

Gordon T. McClelland Art and Labels

The Slackjaw Bros.

Daughters of Eve

Citrus Label Society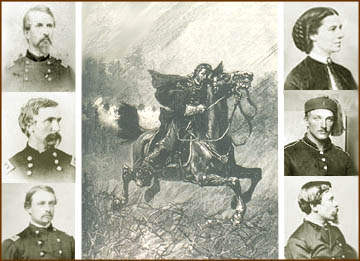 Life Stories of Civil War Heroes is an award-winning, academically acclaimed site honoring noble and brave souls who lived during America's Civil War, from 1861-1865. These individuals performed great and extraordinary deeds that they might never have accomplished, had they not suffered and endured great trials, and persevered. Sadly for some, their lives would end before they could completely fulfill their dreams.

This site features biographies on Philip Kearny, Joshua Lawrence Chamberlain, Robert Gould Shaw, Clara Barton, Charles Hopkins, and Henry Lee Higginson. Tributes to the common soldier, valiant unsung heroes, and veterans are also included—that they will not be forgotten. The stories in these categories are told through poetry; excerpts from letters, journals, and written works; and in illustrations from the era. Photos of soldiers and civilians, monuments and statues, and battlefields and significant places pertaining to the Civil War are provided for reference.

It is my hope that the spirit of the countless heroic souls who fought or contributed significantly in America's Civil War will live on throughout the ages.

In the words of former Brigadier General Joshua Lawrence Chamberlain whose thought-provoking, philosophical writings reflected on the War many years after those turbulent times:

Those who will may raise monuments of marble to perpetuate the fame of heroes. Those who will may build memorial halls to remind those who shall gather there in after times what manhood could do and dare for right, and what high examples of virtue and valor have gone before them. But let us make our offering to the ever-living soul. Let us build our benefactions in the ever-growing heart, that they shall live and rise and spread in blessing beyond our sight, beyond the ken of man and beyond the touch of time.
- Joshua Lawrence Chamberlain,
Memorial Day 1884
This site can be found at
dragoon1st.tripod.com/cw/index.html