Click/tap the map below to view it larger. Click/tap the link (A-K) to go to that section: Main, A, B, C, D, E, F, G, I, J, K
_____________________________________________________________________________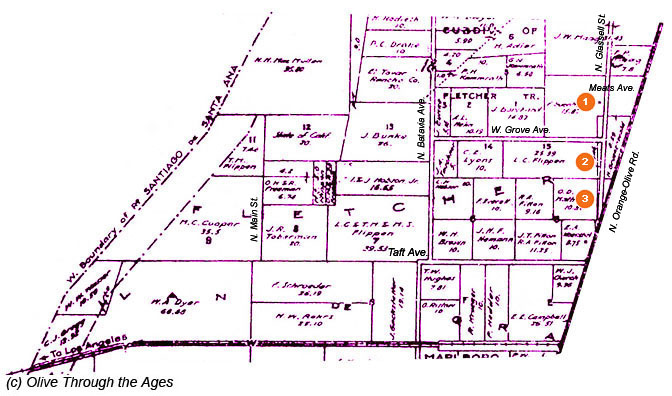 Fletcher-Mott Adobe: Circa the late 1850s, it is believed the Sepulveda family constructed the adobe that was once situated near present-day Glassell St. and Meats Avenue. After the ranchos were divided, the adobe became home to other landowners, including Thomas D. Mott and later John R. Fletcher, until it was razed in 1910.

[See the 1868 composite map and 1901 composite map that mark the location of the "T.D. Mott" home.]

The top right image includes a black-and-white inset photo of the adobe in 1910 on an overlay map from 1888 that shows the St. James tract and Olive Heights tract, and an underlying map from 1985 that marks the streets that appear in the area today.

The image at bottom right shows the general location of the adobe today.





Vicki Haninger home (built 1922) / Rick's Truck Works: Craft-artist Vicki Haninger spent her early years growing up in this home [pictured left in 1964, in the image at right] at 1962 N. Glassell St., just north of Grove Ave. By 1982, Rick's Truck Works [pictured right in 2009, in the image at right] began using the structure for business operations. When I was investigating the origin of the the road that connected to Glassell St. north of Lincoln Ave., Vicki aided my research, sharing a note that she found on the back of the 1964 photo she submitted.

Victorian home (built 1890) / American Family Living: This two-story structure [pictured right in 2009], located on the western side of Glassell St. just north of Taft Ave, was a residence up until the late 1970s. I recall the beautiful home was painted white with green shutters, had an open porch, and was surrounded by graceful pepper trees on either side. After American Family Living began operating here, the building was modified and a parking lot was installed out in front.