Brian Pohanka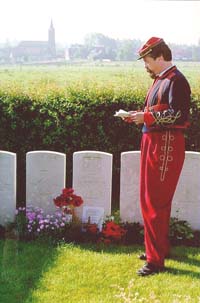 Civil War historian and writer Brian Pohanka is a major contributor to this site. Over the past decade, Brian has visited a number of Great War battlefields on his trips to France. He shares his photos, observations, and historical information with visitors of this site.

When asked about his interest in the Great War, Brian writes on August 28, 2000:

"...I became interested in WWI over time. In part, my interest developed as a study of history and Western culture -- asking how did we get where we are today -- and the realization that WWII was in many ways simply a continuation of, or end result of, WWI....

"WWI ended an age of gentility and culture in the most horrendous slaughter, thus leading to the cynicism and self-gratification that motivates many people today.... Those who were put in that hell on earth were from a different, more mannered and structured background -- and emerged, if they survived, as our 'modern' people...."

In the photo above, Brian wears the uniform of an officer with the 5th New York Duryée Zouaves, his Civil War re-enactment group. Brian writes of this image on May 28, 1999:

"Here is a photo of me reading the poem 'Spring Offensive' at Wilfred Owen's grave near the village of Ors, France, last year."

NOTE: See the Site Dedication page for a tribute to Brian Pohanka who passed away on June 15, 2005.