Index to
Brian C. Pohanka's Pages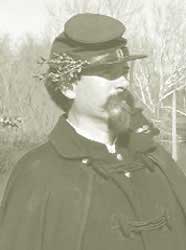 Brian dressed in the uniform of an Irish Brigade soldier on the set of "Gods and Generals." Photo by Jim Wassel, courtesy of Brian Pohanka, December 2001.
Brian C. Pohanka was known as a Civil War historian, writer, speaker, battlefield preservationist, film consultant, and re-enactor. For all his notable and innumerable accomplishments, he was perhaps most widely recognized for his commentary in the "Civil War Journal" series on the History Channel; as an extra in films such as "Cold Mountain" and "Glory," and as captain of the 5th New York (Duryée Zouaves) Volunteers Infantry, Company A, living history organization.

Despite the publicity he received for his work, Brian was a private person who did not seek the limelight. A humble man who marched to the beat of his own drum and stood behind his beliefs, Brian was among the Civil War battlefield preservationist pioneers of the late 1980s whose efforts would found what is known today as the Civil War Preservation Trust. A student of not only the Civil War, but also the Great War (World War I) and the Battle at Little Bighorn, Brian unselfishly shared his knowledge and time with those who were not even among his peers. His loyalty to the soldiers he admired was reflected in his ceaseless service towards honoring their memory.

Though his studies seemed to focus on war, suffering, and death, Brian loved life and all living things, great and small. His nature was inward and often not easily understood. For at heart he was idealistic, gentle, kind, empathetic, spiritual, and compassionate. By bravely facing his own long-term illness without bitterness or complaint, Brian demonstrated the true soul of a chivalrous and noble soldier who fought to the end for his ideals.

A Memorial Tribute to Brian C. Pohanka
The Soul of an Idealistic, Noble Soldier: Page 1 includes an introduction to the pages in this memorial tribute and covers Brian's comments on Civil War-related topics. Page 2 focuses on Brian's World War I studies. Page 3 shares Brian's thoughts on psychology, the fine arts and literature, his travels, and nature. Page 4 concludes this memorial tribute to Brian Pohanka.

Pages Containing Content Contributed by Brian
Inspirational Words by Joshua Lawrence Chamberlain - Quotations by Chamberlain and a picture of him as Brigadier General. Also included on this page is a photo of Petersburg National Battlefield.

Memorial Day Quotations - Quotations by Civil War soldiers and historian Brian Pohanka on the event of Memorial Day are featured in this tribute to Civil War veterans.

"The Blue and the Gray" by Francis Miles Finch - A poetic, memorial tribute to the soldiers who fought for the Union and the Confederacy.

Hiram Duryea reflects on the Battle of 2nd Manassas on Memorial Day, 1907 - Hiram Duryea, former commander of the 5th New York, honors Duryée's Zouaves in a Memorial Day tribute that recalls August 30, 1862: Day three of the Battle of Second Manassas (Bull Run).

Monuments to New York Regiments at Manassas National Battlefield Park - Photos of monuments to Duryée's Zouaves, the 10th New York Infantry, and the 14th Brooklyn (84th New York). Also included is text from inscriptions on these monuments.

"Memorial Day" by Oliver Wendell Holmes, Jr. - An address delivered May 30, 1884, at Keene, N.H., before John Sedgwick Post No.4, Grand Army of the Republic.

Thoughts on Life, Dreams, and Pursuits by Oliver Wendell Holmes, Jr. - Quotations and photos of the former Civil War soldier and associate justice of the U.S. Supreme Court. Also included is a photo of his gravesite in Arlington National Cemetery.

Friends of Oliver Wendell Holmes, Jr. - Includes brief bios on William Lowell Putnam, Charles F. Cabot, Paul Joseph Revere, Edward Hutchinson Robbins Revere, Nathan Hayward, Henry Lyman Patten, Henry Livermore Abbott, and William Francis Bartlett. Photos are included for some of these soldiers.

The Battle of Olustee (Ocean Pond) - On February 20, 1864, the 54th fought alongside two other black regiments: the 8th U.S. Colored Troops and the 35th U.S. Colored Troops. This was the largest Civil War battle in the state of Florida, and a terrible defeat for the Union army.
The Biography of Henry Lee Higginson - Page 1 of this abridged version of Henry Lee Higginson's story tells of his boyhood days, through his Civil War years. Page 2 describes his many contributions to humanity after the war.

The Life Story of Henry Lee Higginson - Part I: In his youth, Higginson desired to be a musician. But as with many of his aspirations, that dream failed to materialize. Part II (Page 1, Page 2, Page 3, Page 4): Henry enlisted as an infantryman, then served as a cavalryman, and as many other soldiers, experienced the glory and tragedies of war. It was through the loss of many of his cherished friends that Henry developed his philosophy of "practical idealism." Part III (Page 1, Page 2, Page 3, Page 4): Following the Civil War, Henry fulfilled his friend Charles Russell Lowell's ideal in becoming a "useful citizen."

Friends of Henry Lee Higginson - Higginson's circle of friends included: Charles Russell Lowell, James Savage, Stephen Perkins, Robert Gould Shaw, James Jackson Lowell, and Dr. Edward Dalton. This page includes brief bios and photos of these soldiers.

Henry Lee Higginson and the 1st MA Cavalry at the Battle of Aldie - On June 17, 1863 the Union forces of Hugh Judson Kilpatrick clashed with the Confederate forces of J.E.B. Stuart in Aldie, Virginia. This hot fight resulted in a loss of 198 of the 294 soldiers from the 1st Massachusetts Cavalry. For Major Henry Lee Higginson, this would be the fiercest of all contests in which he and the 1st Massachusetts Cavalry would engage during the Civil War.

1st MA Cavalry Remembers Comrades at the Battle of Aldie - In 1891, members of the 1st MA dedicated a monument in memory of their fallen comrades at Aldie. Read Major Charles Davis's dedication address and details from the Battle of Aldie.

Henry Lee Higginson's Soldiers Field Address - On June 5, 1890, Higginson presented Harvard College a gift of 31 acres of land he purchased. In his address, Higginson requested that the land be called "The Soldier's Field," and "marked with a stone bearing the names of some dear friends,—alumni of the University, and noble gentlemen,—who gave freely and eagerly all that they had or hoped for, to their country and to their fellow men in the hour of great need—the war of 1861 to 1865 in defence of the Republic."

Higginson's Thoughts on Charles Lowell and Stephen Perkins - In 1907, Edward Waldo Emerson's Life and Letters of Charles Russell Lowell was published, citing in it a letter from Henry Lee Higginson to Emerson. In this letter Higginson shared his thoughts on his friends since childhood—Lowell and Stephen Perkins—who died during the war.

Henry Lee Higginson: "A Great Private Citizen" by M.A. DeWolfe Howe - In March 1920, four months after Higginson's death, an article about him by Mark DeWolfe Howe was published in the Atlantic Monthly. Excerpts from this article and accompanying comments are contributed by historian Brian Pohanka.

Remembering Henry Lee Higginson by John T. Morse, Jr. - Less than a year after Higginson's death, his friend John T. Morse, Jr. published his account: "Memoir of Henry Lee Higginson." Excerpts from this writing are featured here, with comments by Brian Pohanka.

Brian Pohanka's Thoughts about Henry Lee Higginson - Historian Brian Pohanka explains why Henry Lee Higginson "was a wonderful man, one of my favorite people."



---
Home | Biographies | Common Soldier | Journal | Links | List | Look | Valor | Veterans
---
Copyright © 2005 - 2009 1st Dragoon's Civil War Site. All rights reserved.

Spider Map Index