Click/tap the link (A-K) to go to that section: Main, B, C, D, E, F, G, H, I, J, K
Click/tap A to return to that section.
_____________________________________________________________________________
Eisenhower Park, located at 2864 N. Tustin St. in Orange, CA, was named for U.S. President Dwight Eisenhower who passed away in 1969, the year in which the park was founded. The southwestern section of the 16.46-acre park includes a manmade lake which, from the 1880s through the 1950s, functioned as an irrigation pond and reservoir, fed by water from one of the Santa Ana Valley Irrigation (S.A.V.I.) Company canals. The canals were originally used to power a three-story, wooden flour mill, situated on the western side of the park in 1882. After the structure burned down in 1889, the mill was rebuilt and reopened in 1890 on a site adjacent to the park, occupied today by Lakeside Professional Building. Though the S.A.V.I. Co. canals no longer operate in the park area, portions of the cement tunnels and canals still remain underground, and some artifacts from the canal system remain fenced-in on the western side of the park, as well as in the southwestern-most corner on Lincoln Avenue.
My thanks to Mike Lynaugh for identifying the canal system artifact sites at Eisenhower Park and submitting photos of them. - Daralee



Click the image below to view it larger on a separate window/tab.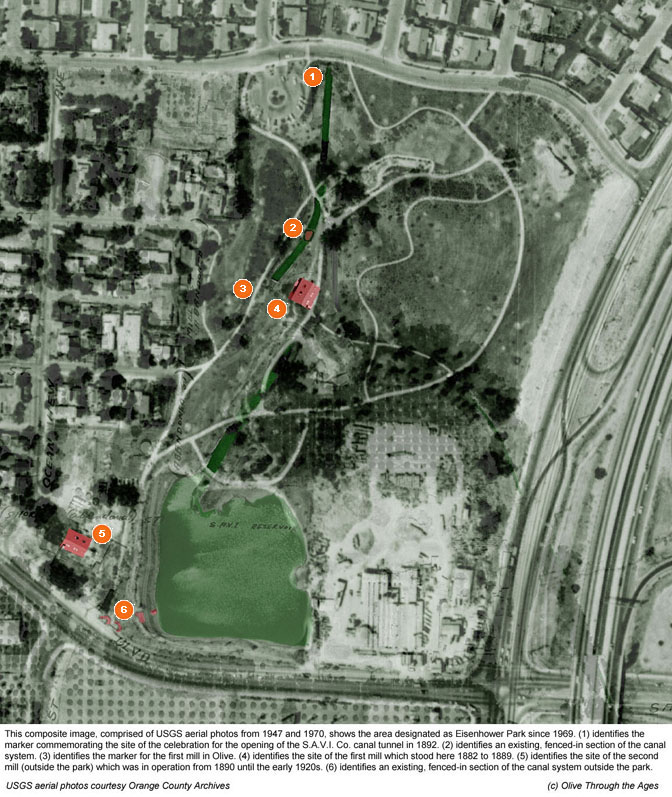 | | | |
| --- | --- | --- |
| Mouth of the S.A.V.I. Co. Tunnel: On April 14, 1892 a dedication ceremony for the newly-completed, concrete, Santa Ana Valley Irrigation Company tunnel was held beside the mouth of the tunnel which was located at the northwestern-most corner of the park [see composite image at right showing the 1892 celebration and the site today]. Water from the tunnel powered the first and second flour mills, the original mill which was located near the northwestern side of the park [see 2014 photo of the location of the marker designating the site of the grand opening of the S.A.V.I. Co. tunnel]. | | |
| | | |
| S.A.V.I. Co. Canal Gate Artifacts: Remnants of the S.A.V.I. Co. canal system [pictured right in 2014] remain in a fenced-in area on the northwestern side of the park [see 2014 photo of the site]. These canal gates were used to control water flowing to the south and to the east. Water from the canal powered the flour mill and was later used for irrigating the citrus groves. | | |
| | | |
| Site of Olive Mill Marker: On February 3, 1976, the site of the original flour mill was marked by a brick monument [pictured right in 2014] erected by the Orange North Rotary Club alongside a pathway near the mill site. | | |
| | | |
| The First Olive Mill: On November 4, 1882, the Dillin (Olive) Mill [see 1880s photo of the mill] began operating on the northwestern edge of the park [see composite image at right and the 2014 photo of the mill site]. The mill burned down on September 29, 1889 and was rebuilt near the southeastern side of the irrigation pond—the park lake today—approximately at the site formerly occupied by Lakeside Professional Building. | | |
| | | |
| The Second Olive Mill: On April 8, 1890 the flour mill was rebuilt southwest of the irrigation pond, with easy access to the railroad [see composite image at right and 1890 photo]. The operations were sold to Central Milling Company on October 1, 1919, and the mill was dismantled in 1932. Lakeside Professional Building was at this site from 1972 [see 2009 photo] until November 2019. | | |
| | | |
| S.A.V.I. Co. Canal Gate Artifacts: Remnants of the S.A.V.I. Co. canal system [pictured right in 2014] remain in a fenced-in area at the southwestern edge of the park along Lincoln Avenue, next to the site formerly occupied by the Lakeside Professional Building [see 2009 photo of this site]. This canal gate was used to control water flowing south towards Canal St. which was used for irrigating the citrus groves. | | |
| | | |